Our sofa frames are the highest quality available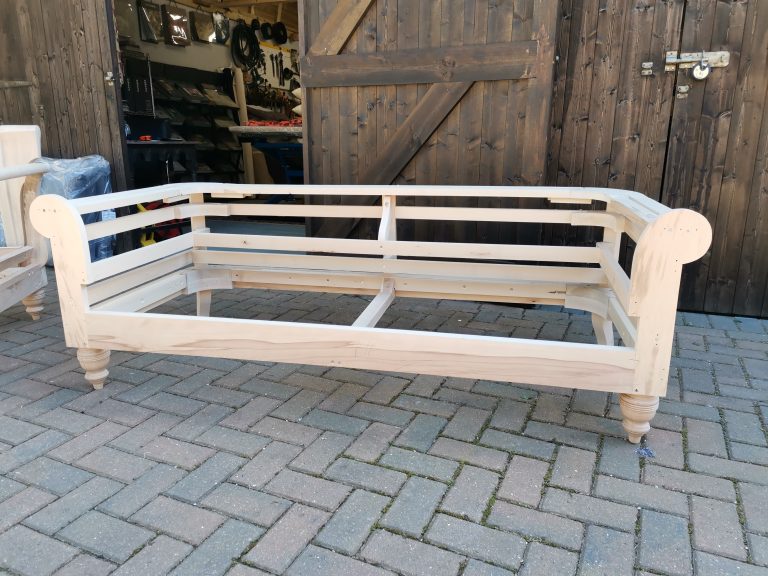 "How long does a new sofa last?"
It's the golden question that any homeowner should ask before pulling the trigger and axing their trusty old sofa.
As the most used and oftentimes most expensive piece of furniture, picking a sofa that not only looks good but will age alongside you is the best investment you can make.
Unfortunately, while most owners expect that their swanky new couch should last them between 7 to over 30 years, the reality isn't that pleasant.
The average sofa is only 6 years old. That means sofas are either not built to last anymore, or people simply are throwing their old ones out.
Why would anyone throw their perfectly good sofa away? It's a mystery.
What's certain is that what was once a "buy it for life" kind of purchase is now only expected to last under a decade. They just don't make them like they used to.
Worry not, with some pointers on what to look out for in picking a sofa that's built to last, your next one may even make it all the way to the antique shop. Fingers crossed.
When it comes to determining the lifespan of a sofa, you'll need to keep one thing in mind – it will last until the first major component wears out. After that, you'll need to decide whether to fork out for a sofa pick-me-up or throw it out.
Getting right into it, here are the most important things that will determine the lifespan of a sofa:
The Frame
If you've ever plopped down on a sofa only to be greeted by a loud squeak, creak, or a crack, you'll appreciate how important it is to have a sturdy frame. Any high pitch sounds emitted from your couch are bad signs indicating structural flaws.
It's the sofa's way of crying out in pain…
Unless you're a master in the DIY department, there's nothing you can do to save your sofa if the frame goes. Spend extra time to find furniture built on a great frame if you want it to stick around for some time.
When it comes to picking a sofa frame that will hold up through the years of rough use, get a frame that is either made of hardwood or metal.
Hardwood
The ancient sofas that you may have seen lurking in the corner of antique shops are almost always constructed from some kind of hardwood. It's the secret to why they last so long.
Whether the frame is made from kiln-dried hardwood or engineered hardwood, they are both great choices that will likely outlast every other component of the sofa.
It's a better alternative compared to particleboard or plywood. After all, using solid wood is much denser and guarantees a more durable (but also heavy) frame.
To name a few, some of the best hardwoods that you should be looking for in your sofa frame include Beech, Oak, Birch, Mahogany, Walnut, and Cherry.
Craftsmanship is important to us.
Unfortunately these days the skills required to build a high quality frame have largely been left to decay in favour of budget contentious builds to maximize profit.
Today an awful lot furniture manufacturers have turned to computer aided machines for incorporating particleboard and plywood into frames. This does cut time and reduces expensive hardwood costs. But the waste it generates, both in the manufacturing process and also on the environment, when it inevitably ends up in landfill after a few short years isn't good.
The reality is that these sorts of builds are only designed to last as long as the term of your "interest free credit". i.e 4 to 5 years.
This concept moves away from the decades of knowledge and skills found in quality, traditionally made frames that genuinely use "old school" frame making techniques and hardwood And these core, hands on skills are slowly being eroded as a result.
That's not our ethos and we won't try upsell the quality of budget conscious frames.
A "Cat and Kiwi" made sofa or chair is very different. We believe our builds represent simply the highest quality available and are also thoughtfully constructed at every step.
.And best of all, made by hand. Ensuring that it will last many, many years and therefore in the longer term is less damaging to our planet.
That's why we only use frames that are built by dedicated sofa/ chair frame makers that choose to champion traditional British manufacturing methods.
Hand made hardwood frames also ensure that the raw skills that are needed to build them are passed down through the future generations to come.
Look away now. These pics below represent some "not so great" but increasingly common frame characteristics found in a budget build.